Felix and Teddy's Daddy, Joel, has an extra special super hero skill in the eyes of his children.  Amongst other things he is very happy to treat them to a Mcdonalds far more regularly than I see appropriate.  The problem is he has a wife who is happy to cook, likes food, wants you to help and yet when you do help she turns into a total moaning control freak.  Yes that is me.
There have been occasions where we have been on a long journey and there hasn't been a single meal that Felix can eat at a service station. South Mimms services I'm looking at you!  Frankly I find it incredibly comforting and reassuring to know there is always one place to eat where the staff are well trained, every restaurant has the same process, the menu is reliable and Felix has eaten many (many more times than I care to admit) without becoming unwell.  The added bonus is he leaves Mcdonalds a very happy boy!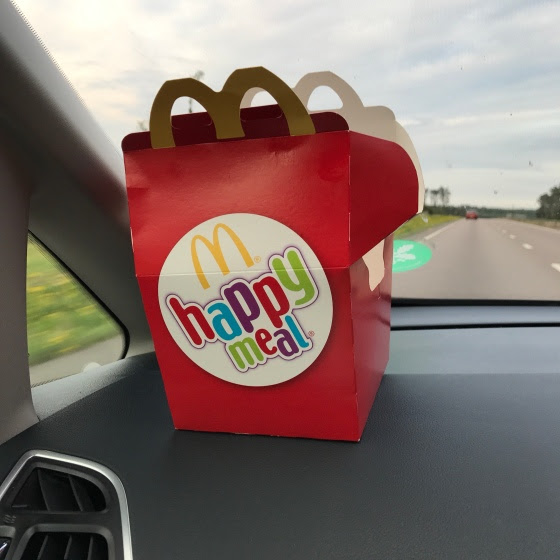 For a long time Felix couldn't eat wheat, dairy, soya, egg, nuts, sesame and coconut.  Our solution was to order him a burger with no bun, fries, fruit bag and a drink.  I'm always reassured by how easy it is.   Yes, this doesn't make us perfect parents but you have to do what you can to survive!  I love to cook really tasty food, cooked from scratch but there is no shame in sometimes deviating from what you know you'd prefer your kids to eat.
Take a look at Mcdonalds brilliantly transparent allergen information.   I really love it when I can plan in advance and order without Felix worrying there won't be any safe food.
The next time I come home from work on a Saturday and the boys proudly present me with a piece of plastic from a Happy Meal I won't moan.  I'll be grateful their Daddy despite being terrified of cooking for Felix has still managed to feed everyone safely.
Happy Father's day Joel.  You do a great job and your boys love you so very much xxx